Voice AI platform for enterprises
Automate your communication with AI voice and text agent
delivering highest accuracy to improve customer satisfaction and reduce costs.
Trusted by
End-to-End Customer Journey Automation
Benefit from best-in-class enterprise conversational AI connected to the contact center, other communication channels, CRM & 3rd party's systems, will not only reduce costs but improve the customer satisfaction. Trusted by biggest companies in the retail and financial sector.
Voice and Text AI Agent
Yosh will design and develop your custom AI Agent using enhanced ASR, NLP and Google Dialogflow technology to deliver the highest accuracy in speech recognition and human-like conversation, thanks to the most advanced AI models.
Contact center & all communication channels
Yosh will connect your AI Agent to Genesys, Cisco and other contact centers and will implement it across all communication channels including: website, Messenger, Whatsapp, Google Business Messages, mobile app, and more.
CRM & external systems
Yosh will integrate with your CRM system and systems like Zendesk to shorten the conversation duration and improve customer experience by automating processes.
Reporting and growth
Yosh will continuously improve your AI Agent and regularly report quality and quantity insights and recommendation for further development.
How We Help Our Clients – Case Studies
Yosh.AI helped CCC S.A., one of the largest European footwear and omnichannel retailers, set new industry standards and automate its Customer Support with the implementation of cutting-edge conversational AI technology. CCC's text and voice Virtual Assistant not only answers FAQs and order or complaint status inquiries but also looks for products with innovative Visual Search technology, checks product availability in stores and much more. The solution is already available in 6 countries across multiple channels.
Media Expert, a computer and multimedia store, successfully reduced the amount and duration of Contact Center calls with the introduction of Voicebot Assistant. Yosh.AI automated user authentication and integrated the tool which is a part of IVR, with CRM via APIs. Every day, the Media Expert's voicebot provides services for thousands of users in areas such as order status requests and order-related FAQs.
Multiple retail enterprises sought a solution that would help them get the whole picture of what customers want to find when they look for products in their stores. The user engagement and sales of such companies as E-obuwie, Kruk and Design Town were increased via the addition of Yosh.AI's Visual Search tool. The technology is based on advanced, state-of-the-art machine learning methods using neural networks. All operations are processed on Google Cloud.
An innovative solution made for LPP S.A., the biggest apparel retailer in CEE, was deployed on Google Business Messages channel- which is a chat supporting Google Maps. With nearly 250 Sinsay stores in Poland alone, the customers may not only receive answers to their FAQs via Google Search and Maps but also directly inquire about contact details or working hours of individual boutiques, and in the future, possibly even make product reservations or check item's availability.
Yosh.AI is helping Markerstudy Group, the UK's 5th motor insurance provider, streamline their operations with Conversational AI via multiple projects. Claims & FAQs chatbot significantly reduces their Contact Center traffic, Service desk voicebot accelerates internal processes, and an enhanced VRN recognition module facilitates user authentication automation.
Being, the second biggest Polish bank, Pekao SA was looking for a way to scale down the volume of its Contact Center calls. Yosh.AI's POC offered automation of 5 crucial banking processes along with FAQs via voice and text channels, outperforming Pekao's on-premise solutions reaching an 84% accuracy level already in its 2nd week.
A British multinational insurance company AVIVA was aiming to boost their customer satisfaction and NPS rates. Hence, an automated AI agent was built for IVR claim routing purposes as the area in the most need of improvement. In the last week of POC's development, the AI agent was at the 88% level of accuracy.
A voicebot, handling over 20 thousand different names of pharmaceuticals, built for Neuca S.A., the Polish market leader in medicinal wholesale, supports invoice returns. As part of IVR, the project implemented via integration with Neuca's CRM aims to considerably cut down the number of calls received by Contact Center from pharmacies.
The 4th largest bank in Europe had eyes for automation of their Contact Center with an AI agent. Standard Leasing was looking to find improvement in 3 main areas: Customer authentication, IVR routing, and 10 FAQs automation. The solution built on call recordings analysis averaged over 90% accuracy.
Hello Fresh, the largest meal-kit provider, wished to improve the quality of their product offer by gaining more knowledge about their customers' experiences. Yosh.AI provides a solution that includes adding product and problem-specific buttons and prompts to the uninformative customer responses as a part of Hello Fresh's Review Service. The product is available in the US and Canadian markets.
End-to-end voice AI platform for enterprises
Take the advantage of voice AI technology powered by Google, customized by Yosh to meet your clients' needs and stand out among your competitors.
Automate the workflow of your contact center with the most accurate voice AI agent.
Reduce your contact center cost by up to 50%.
Implement a voice AI agent to let your clients communicate as conveniently as possible.
Instantly provide accurate information to your customers, with no waiting time, 24/7.
Scale easily during peak seasons without any limits or pre-commitments thanks to the fully cloud environment.
Implement consistent and automated communication across all the channels.
Support your digital transformation by connecting your infrastructure or CRM with any contact center.
Automate up to 80% of your processes to shorten call duration and improve customer experience.
Support your agents with fully integrated solution into your contact center panel, including live call transcript.
Increase efficiency of your agents with AI agent assist to offer suggestions and answers to customer inquires.
Benefit from the most advanced and accurate voice AI technology
Implement a voice AI agent to let your customers communicate in the most natural and convenient way: by using their voice.
Assist your customers with state-of-the-art speech recognition and NLP based on the latest Google technology.
Innovate quickly with a customised solution developed in 2-4 weeks thanks to the sector-specific pre-trained voice models from Yosh.
Give your brand a natural, friendly-sounding voice in over 100 languages.
Get Data-Based
Business Insights
Learn about your customers via the live panel with call transcripts, customized KPIs, intents analysis, and more.
Get insights from monthly quantity and quality reports delivered by Yosh language specialists.
Get inspired by our continuous recommendations for further growth and expansion to profit more from your AI solution.
About us
We're an international team of AI
specialists, NLP experts,
programmers, and linguists.
Our mission is to revolutionize
communication through leading-edge
AI technology and empower brands
by giving them their voice.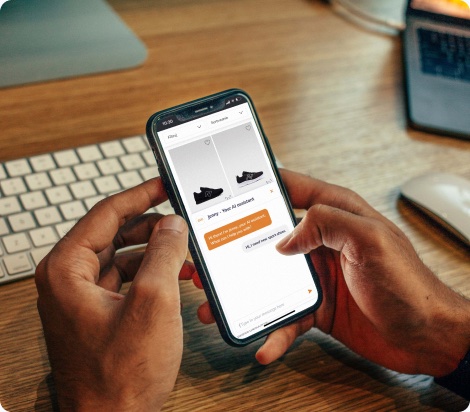 Equipped with AI, NLP and Linguistics, Yosh.AI is on a Mission to Change the Way People Buy Online
0%
of customer requests
 can be automated
0%
of companies implement AI solutions
0%
of customers come back to retailers using AI assistants
0%
positive reception of voice assistant
Need Enterprise Solution?
We'll be glad to tailor your company
a custom product fitted to your business needs.
Let's talk.