About us
We're an international team of AI
specialists, NLP experts,
programmers, and linguists.
Our mission is to revolutionise
communication through leading-edge
AI technology and
empower brands by
giving them their voice.
We use AI and NLP to give brands their voice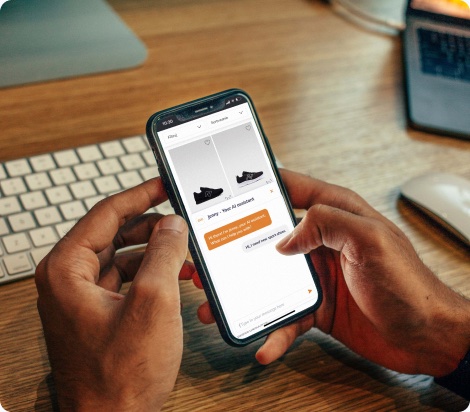 Thanks to innovative AI technology supporting both voice and text conversations, brands are now able to seamlessly communicate with users for the first time in history, allowing meaningful, user-driven one-to-one communications.

We focus on creating personalized solutions for retailers which allow them to increase sales growth and optimize cost through implementing automation based on AI.
A company shaping the future of retail
Polish company Yosh.AI creates intelligent, voice-activated in-app chatbots for fashion brands that understand what the user is responding to – match-making suggestions according to voice and on-screen visuals.
Partherships and Recognition
With dedicated voice assistants for the most prominent international companies, Yosh.AI is leading the global commerce transition towards voice shopping.
Yosh.AI is an official global Google Cloud Partner. After numerous international and successful implementations of AI solutions for international enterprises. Google recognised advanced and high
quality solutions provided by Yosh.AI and announced us as the Global Partner.
Google Partner Specialization is the highest technical designation a partner can achieve in Partner Advantage. Specialization is designed to provide Google Cloud customers with qualified partners that have demonstrated technical proficiency and proven success in specialized solution and service areas. Partners who achieve this specialization have demonstrated success in building and managing applications using the best of GCP in both web and mobile environments.

Yosh.AI is proud and honored by the announcement made earlier 2019 by Forbes, naming us as one of 5 companies shaping the future of
retail.
Yosh.AI was chosen by UK Government for Global Entrepreneurs Program, allowing us to get support from Department of International Trade for strengthening our presence on the UK market as well as accelerating our global presence.
Yosh.AI has created a great use case with CCC in AI voice and text assistant as well as in visual search. We are honored to have the "2021 Global Excellence Award for Best Use of AI for Customer Experience" by AI Journal.
Yosh.AI is very proud to be accepted to Oxford Creative Destruction Lab AI program. CDL, is a nonprofit organization that delivers an objectives-based program for massively scalable, science- and technology-based companies. CDL-Oxford is located in Oxford, UK at the University of Oxford's Saïd Business School.
Poland at Expo has chosen Yosh.AI as one of the top technology companies from Poland.
Another milestone was achieved in 2021, thanks to "EMEA Google for Startups Accelerator", Yosh.AI has expanded its services across Europe.
Yosh.AI is the winner of the pitching competition for the acceleration program in Singapore organized by Accelpoint and BLOCK71 Singapore and Polish Investment and Trade Agency.
Yosh.AI has a close partnership Polish Academy of Sciences (PAN) and National Center for Research and Development (NCBR) for mastering the conversational AI technology.
Our Mission
Yosh.AI accelerates the ecommerce sales through strengthening end consumer engagement thanks to the pleasurable, effortless shopping experiences delivered by the most advanced voice automated AI solutions.
Online shopping should be effortless and enjoyable. We want to help brands communicate with their customers in a more natural and enjoyable way.

We use advanced technology to set a virtual clerk at the doors of your e-commerce, providing customers the best retail experience with a personal and proactive approach, constant availability and accurate suggestions.
Our Value
We are powered by an informal culture, rooted in sincerity, cooperation and passion. We use this collaborative strength for discovering new solutions to deliver business value for our clients.
People
At Yosh.AI, we are powered by an informal culture, rooted in sincerity, cooperation and passion for discovering new solutions to deliver business value for our clients. We utilise the most advanced technology based on Artificial Intelligence to achieve this goal.
Founding team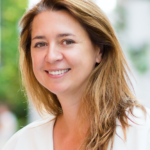 Co-Founder & CEO
Kasia Dorsey, who was nominated as Forbes "100 European Female Founders", after spending years in marketing within The Coca-Cola Co., has founded Yosh.AI with a mission to re-invent communication between companies and their clients through conversational AI. The products offered to enterprises include AI, virtual assistants, using voice and text, visual search and a recommendation engine. Yosh.AI currently works successfully with many international enterprises, within retail, banking and healthcare, helping them implement automation into their communication streams through the use of speech recognition and speech synthesis as well as NLP. Yosh.AI is a global Google Cloud Partner and the winner of numerous international technology competitions, recent alumni of EMEA Google Acceleration program. Forbes named Yosh.AI as a company that is changing the future of retail. Kasia is passionate about deep-tech and adding value to the business through the further implementation of AI. She is an active mentor at Google and is the global Ambassador of the Blackbox Silicon Valley Acceleration program. She supports the growth of innovative solutions and passionate people.
Co-Founder & CTO
After many years of pursuing scientific research, currently responsible for leading the research and development of R&D project founded by NCBR in Shopai. Pawel specializes in computer vision products, implementing the State Of The Art solutions utilizing deep convolution networks. The new technology, besides achieving high accuracy of the modes, offers high scalability. The solutions are compatible with the enterprise production environment requirements. Leading a group of talented Data Scientists, linguists and engineers – is on the way to revolutionize the way the companies are communicating with their users- by introducing Virtual Assistants with unique features including visual search, automated tagging or personalization. Previously working with Samsung Research, R&D, Artificial Intelligence, Data Intelligence – as a principal investigator – developing tools for automated knowledge extraction, machine learning models and privacy-preserving AI tools based on GAN approach. Holding a PhD in physics, for many years working as a researcher (Max Planck Institute for Quantum Optics, Ludwig Maximilian University, Montana State University, Polish Academy of Sciences, University of Warsaw), authoring more than 30 international publications and 6 patents.